One of the most affordable ways to have an online store is with dropshipping. Know this format and find out how to create an ecommerce and do drop shipping even without any product.
As the growth of ecommerce in recent years, the number of people interested in a specific modality of online store has also increased: dropshipping .
Having a dropshipping store is one of the most talked about ways to set up your online business. In this post, you will understand what dropshipping is , how to do dropshipping and what are the first steps for you to start your own business on the Internet.
DROPSHIPPING: WHAT DOES IT MEAN?
There are those who write dropshipping together and also drop shipping separately. In Wikipedia, the term is written separately and, according to the website, drop shipping can be defined as "stock at source". In short, the meaning of dropshipping is nothing more than a form of sale where the seller does not keep products in stock.
DROPSHIPPING: WHAT IS IT AND HOW DOES IT WORK?
Generally speaking, you do not need to have the product in stock to make the sale. Your customers buy at your store, but your supplier produces and delivers the goods. When a customer places an order on your website, you ask your supplier to send the product directly to the customer.
This way, you can have a huge variety of products in your online store, but you don't need to keep a stock, as this step is done by the dropshipping supplier .
THE BIGGEST ADVANTAGE OF DOING DROPSHIPPING
For many entrepreneurs, it is difficult to imagine ecommerce without stock. However, this is one of the biggest advantages of drop shipping: low cost. With this modality of virtual store, you will make the purchase of the product only when making a sale. It is a very simple model to understand if we make an analogy with a third party service provider.
Imagine that in your company, a few times a week, you need someone to clean it up. You do not need to hire a person to stay every day of the week if he will only work two days. Therefore, when you need that service, you will do the hiring.
Dropshiping is similar. You do not need to have the product in stock waiting for someone to buy. With your dropshipping ecommerce , when someone orders that product, you place the order with your supplier who will send it directly to the customer's home. With this, you do not have to maintain a large inventory, nor worry about the logistics of the products.
IS DROPSHIPPING LEGAL?
If you have already researched drop shiping, you may have seen many references to suppliers from Asian countries, especially from China. You must have been asked if dropshipping is legal? The answer is yes: dropshipping is legal . However, just like any other business, you need to respect import and tax laws.
As this is a topic that requires expert knowledge, I recommend that after reading this text, if you want to start your dropshiping business, you should contact your accountant.
In addition, today there are many national dropshipping suppliers . Later on I will bring you some places where you can learn more about them. The national dropshipping is growing and helping the online retailers to reduce one of the main disadvantages of dropshiping: the slow delivery.
HOW TO SET UP AN ECOMMERCE DROPSHIPPING?
So far, in summary, you have seen some basic terms about how dropshipping works. Now, I want to explore a little more about how it works in practice to have a virtual store in this model. Drop shipping does not differ much from traditional ecommerce. The main difference between having a common online store and a dropshipping store is in the inventory and logistics part.
The other elements such as marketing, customer service, product selection and the technical part of setting up the store are practically the same in both formats.
What changes is at the back of the counter. Instead of managing your inventory, handling products and shipping, you will connect with the suppliers of the products you sell. You will receive the orders and transmit them to your suppliers, who will send them to the customer. So, know that this is a broad topic with many opportunities.
FIRST STEP: CHOOSING YOUR NICHE MARKET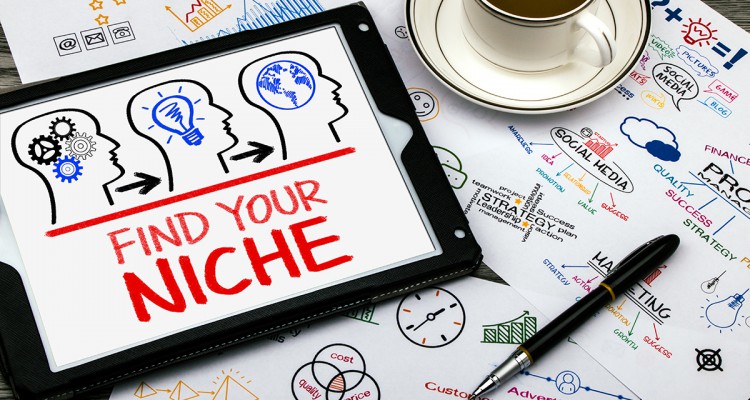 While having a dropshipping store is interesting, be aware that there is a lot of competition in eCommerce . Thus, having your differentials is important. One of the main differentials is its operating niche and product selection. This is the first step for those who want to set up a virtual store.
Look for an interesting market niche or, who knows, even a micro-market . As sales happen, you can expand. Some time ago I met a person who started selling only earrings with cats. There were several earrings with the theme of cats, a micronho .
Then, with increased sales and gaining experience, she increased the variety of products and started offering mugs, t-shirts, pictures, various products with the theme cats.
With this example, it is easy to understand how to differentiate yourself. I believe that one of the most intelligent ways is the selection of products. You will be a curator for your audience, where you will seek and offer the coolest items with their differentials. This can help you become a reference and, the best: charging more for this selection work. Here's how I would start my dropshipping business.
SECOND STEP: SALES PLATFORM
This is a sensitive topic and depends on several factors. The choice of a platform to create your store depends on questions such as the size of your product catalog, features you need, among other points. When searching for Google, one of the most cited dropshipping platforms is Shopify.
It is worth taking a look and see if it meets your needs. Another way to find your sales platform is to check if the most popular ones offer the features you need. In this link we separated some cheap platforms to set up your online store.
THIRD STEP: DROPSHIPPING SUPPLIERS
This is one of the most laborious and important parts of an online store: the choice of trusted suppliers for your products. As stated above, most suppliers today are from China. The dropshipping Brazil is growing but is still small relative to China.
When searching Google, you will find several articles and videos talking about lists of drop shipping providers. As it is a process of choosing a business partner, it is important to do a lot of research.
Among the most cited international dropshipping suppliers are:
– Oberlo
– Aliexpress
– Alibaba
– Gearbest
These are already names for you to have a starting point to start understanding where to find your products.
Among the national dropshipping suppliers in Brazil are:
– Veneered Image
– Kompass
– PontoMix
– Wholesale Xtreme
TIPS FOR FINDING SUPPLIERS
1. Understand the difference between them
Upon entering this universe, you will see that there are several ways to be a supplier. There are exclusive importers, who have the right to import something and sell to local retailers.
There are also manufacturers. In this model, you can transact the products directly with the manufacturer. It is usually common with clothes.
Another modality is the distributors, who buy large quantities of a certain product and resell it.
2. Do an experiment
Before closing any deal or offering any product in your ecommerce, test the supplier. See if the product is of quality, if it is delivered correctly and if there is any problem in the process.
3. Immerse yourself in the market
At first, finding suppliers can seem very complicated. But as you have more clarity than you seek and how much you want to profit, it gets easier. One way to find suppliers is to participate in Internet discussion groups.
On Facebook there are several. There are also specialized blogs and courses that you can take to get tips and shortcuts for setting up your eCommerce. The more information you have before you start, the better your result will be.
4. Promote your Virtual Store
After placing your dropshipping ecommerce on the air, comes the promotion stage. At this point, your marketing will play a decisive role in your sales. So, my first tip is to plan your marketing and define how your store will be promoted.
Among the main ways to promote your drop shipping is to use social networks and Google, especially with ads. Here comes the importance of the first stage of your project: choosing an attractive market niche.
When you combine dropshipping with digital marketing, you have great opportunities to sell. There are several ways to promote your store. I will list here some and, along, more in-depth articles for you to know more.
1. Search Marketing
Defining the keywords of your business and using them in your content, along with SEO tactics, will allow that when people search for those terms on Google, your store can appear.
Therefore, producing content with a focus on SEO to be well positioned on Google, is one of the ways to attract more visits and make more sales.
2. Social Media Marketing
Another way to advertise your virtual store is on Social Media. Having an account on Instagram, Facebook or a YouTube channel can be a way to generate engagement and viralize your products.
When promoting your business on Social Media, you also have an important element to boost your sales: the engagement of your followers. Which helps to publicize your products even more and generate social proof.
3. Marketing with influencers
Counting on the audience of influencers is a great way to generate visibility faster. There are several professionals on Instagram, YouTube and blogs that can be hired to promote your business.
There are several models they can act on, like paid partnerships on Instagram, paid posts, as affiliates. It is worth knowing more about this type of marketing.
4. Paid Ads on Social Media
Another very important way to promote your business is through paid ads on Instagram, Facebook and Google. These are the main sources of traffic that you can use to promote your dropshipping.
The cost is flexible and chances are your audience will be on these channels. With small investments, you can start to understand how these channels work and scale as your sales also increase.
5. Email marketing
Despite being somewhat forgotten, email marketing is an excellent way to promote your products. You can maintain a communication channel with those who have already purchased in your store, sending promotions and news. Also, you can have a list of people interested in your niche, share content and send promotions from time to time.
ADVANTAGES AND DISADVANTAGES OF DROPSHIPPING
If you've searched for drop shipping out there, you've probably seen it all. People claiming it is the best of all worlds, that you can make money on autopilot, while traveling the world and watching your bank account get fat. There are also those who claim that it is a dream that has turned into a nightmare. The fact is that there are different experiences that speak well and others not so much.
Undoubtedly, like any business model, there are positive and negative points. I will list some here and I count on your help in the comments to share with me what you think about having a dropshipping online store.
ADVANTAGE: ENTRY COST
This is one of the main advantages. It is cheap to start with Dropshipping. Because you don't need inventory and logistics is done by a supplier, opening a store in this model becomes more accessible than a traditional one. Of course, being cheap is different from being easy, but that's another story.
ADVANTAGE: OUTSOURCED LOGISTICS
This is another point that makes dropshipping attractive. The fact that you do not have to worry about shipping products is a point that draws attention. However, do not forget the rules of ecommerce in Brazil and that there is the issue of returns. In most cases, situations of return of goods and amounts paid, will be your responsibility.
ADVANTAGE: FOCUS ON CUSTOMER ACQUISITION
Managing inventory, buying and selling products is a time-consuming task. If you don't have a team, it is certainly one of the activities that will consume most of your time as a business owner. Because you don't have to deal with it, you can focus on acquiring customers. Since delivery and inventory will be managed by each supplier.
DISADVANTAGE: FIERCE COMPETITION
While the cost of entry is an advantage, it also allows for a lot of competition. Therefore, focusing on a niche can be a strategy to differentiate yourself. If you don't have an entry strategy, you're sure to have a lot of competition. What can tighten your profit margin.
DISADVANTAGE: PRODUCT DELIVERY TIME
As there are still few domestic dropshipping suppliers , there is a good chance that you will need to look for suppliers in other countries. If you choose Chinese, know that the standard delivery time is usually much longer. It is not uncommon to see products take 30 to 60 days to reach the customer. Depending on your segment, waiting two months for the product to arrive is not feasible.
DISADVANTAGE: DEPENDENCE ON SUPPLIERS
One of the secrets of eCommerce drop shipping ends up being suppliers. If they are good, committed, and professional, everything can go well. If they are not, you may have problems with your customers, if the delivery is delayed, the product is not of quality. This ends up being a risk since you will depend on them to do a good job so as not to have problems with those who buy from you.
These are some important information for you who want to be a digital entrepreneur and start an online business. Dropshipping is just one of the possible models if you want to start your own business. There are other ways to use the internet to make money. In this post I separated other ideas that may interest you.
Now, I want to know from you: what is your opinion about dropshipping and, if after the information you saw here, you were interested in knowing more about this way of creating a digital business, tell me in the comments.